Realty By Design Team

Agent

in Oregon City, OR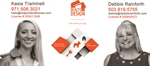 Languages Spoken
English, French, Polish, Russian
Professional Designations
EcoBroker, GREEN, REALTOR
Expertise Types
Auction, Buyer Broker, Commercial, Condominiums, Estate Bankruptcy, Farms, Foreclosure, Land, Manufactured Homes, New Homes, Probate, REO, Short Sale, Single Family Homes, Townhomes
Our goal is simple; to help you find a home that reflects your lifestyle in communities that support your passion.With over 30 years of combine experience it would be our pleasure to help you with the Sale or Purchase of Your NextHome.
What Sets Us Apart?
We turn dreams into addresses
We convert transactions into relationships
We go beyond the sale…
In the real estate industry, a work ethic is often confused with being passionate about one's work. We believe that passion is what brings us together and what connects us with you. Our size affords us the ability to offer numerous specialties while still maintaining a boutique feel. Our agents possess talents, skills and backgrounds, from passionate designers to marketing strategists to green certified agents to relationships with asset management companies to appraisers-just to name few. Our agents display proven expertise in their respective fields.
Our Location:
Our office is situated near the arch bridge that gracefully and symbolically ties together the two towns of Oregon City and West Linn. We are proud to say that we are located in the most prominent building, the oldest Masonic Lodge in the West, within Oregon City's historic business district. Leaving the original character of the building intact, our office has been turned into a model of cutting-edge sustainability through thoughtful hands-on renovation utilizing the concepts, ideas and values of Kasia Trammell by incorporating reclaimed materials, with a creative twist, the design has established a storefront presence that allows the office to expand its advertising venue to pedestrians and drive-by traffic.
As a full time professional real estate agent, I pride myself on offering superior personal service before, during and after your transaction. Knowledge, commitment, honesty, expertise and professionalism are the cornerstone of my business. Let me earn your trust, your business and most importantly your friendship. Don't make another move without me. I guarantee you will see the difference quality service makes. I look forward to working with you!